Today is my daughters first birthday! Oh where has the last year gone? I vividly remember giving birth to her yesterday. lol Its the weirdest feeling for me to go to bed with an infant and to wake up to a "toddler". This is my last time I get to have a 1st Birthday. Anyways here are my memories of the last year.
At 8:45 pm Lilliana Marie was born at 8lbs and 20 inches of beauty. It was love at first site for both Daddy and I. She took to nursing like a champ and didnt unlatch all night long. She started out as a very clingy baby and still is. lol She hasnt stopped amazing me every day. She was 4 months old when she started crawling. Cruising by 5 1/2 months, said her first "word" at 6 months and hasnt slowed down. She is the most energetic baby girl you will ever meet. She is strong willed and independent when she wants to be. She hates cosleeping as much as I love it. Bath time is her favorite time of the day. If you have food chances are she's going to want it. She has a mind of her own and her own favorites. She loves the Disney Princess stuff and abolutely loves Tinkerbell and the other Disney Fairies. Dollies and anything with balls is sure to be something that will keep her occupied for hours.
Mommy and Daddy couldnt be more Proud of her. Shes deffinantly wonour hearts over just like her big brother. :) She's her Daddys Little Girl and her Momma's Princess.
Here's she is in the first few minutes of life.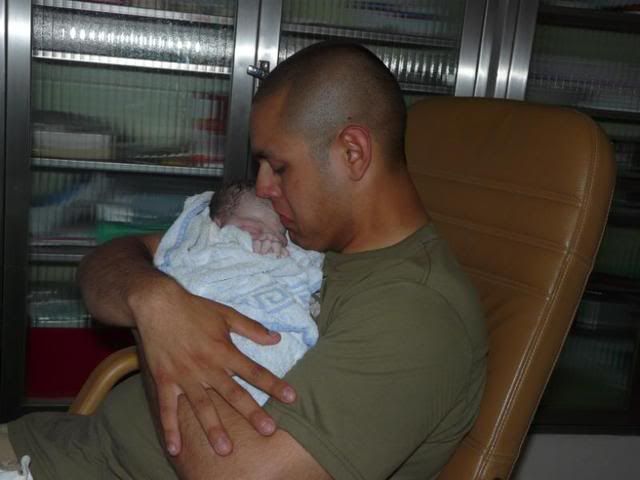 Here's my Birthday Girl!